The Stonepark project is a joint venture between Group Eleven (76.56% interest) and Arkle Resources plc (23.44% interest) located near Limerick, Ireland's third largest city, and extends from the small rural villages of Ballyneety in the north, to Bruff in the south (a distance of some 13.5 kilometres) and from just south of Pallas Green in the east, almost to Croom (population 1,157) in the west, a distance of 25 kilometres. The property is adjacent to Glencore's Pallas Green deposit, which is one of the largest undeveloped zinc projects in the world, with an estimated resource of 44 million tonnes grading 8% combined zinc-lead (based on Glencore plc's public disclosure). The Company believes the Pallas Green trend has historically been underexplored and remains poorly understood. In recent times, the trend has been shown to be significantly larger, in terms of mineralization and alteration, than other mineralized trends in Ireland (e.g. Silvermines and Rathdowney). The Company holds the largest license position in the Pallas Green district. The property was previously operated by TIL, who conducted 54,767m of drilling between 2007 and 2012.
Project location map of the Stonepark Project, County Limerick, Ireland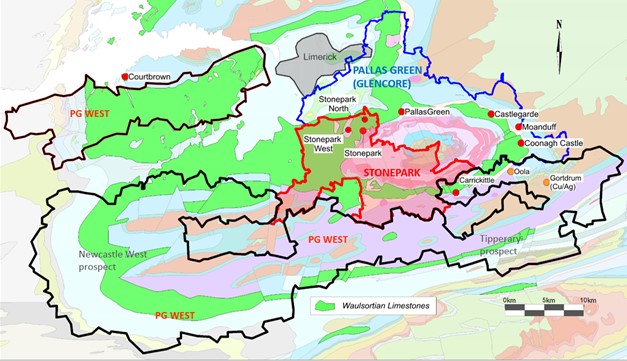 Exploration opportunities exist at the Stonepark North, Stonepark West and Stonepark prospects where drilling by Teck Ireland Ltd. has intersected encouraging zones of mineralization. Follow-up drilling to trace mineralization back to a controlling structure, as well as, testing regional targets are key priorities. Regionally, the major mineralization controlling structures have not yet been identified on the property. The bulk of the high-grade zinc-lead mineralization at the Stonepark Project occurs in flat-lying, stratiform (1.0 to >7.5m thick) lenses of massive and semi-massive sphalerite, galena, and pyrite hosted within thick (10 to >75 m) hydrothermal alteration bodies (primarily Black Matrix Breccias) within the Waulsortian Limestone Formation. The Company plans to use tectono-stratigraphic analysis combined with seismic profiling (which has been attributed to the great success in the discovery and delineation of the SWEX SE "deeps" zone at Navan) to identify controlling structures and locate the most significant parts of the hydrothermal system.
Prospect and geology map the Stonepark Project, Ireland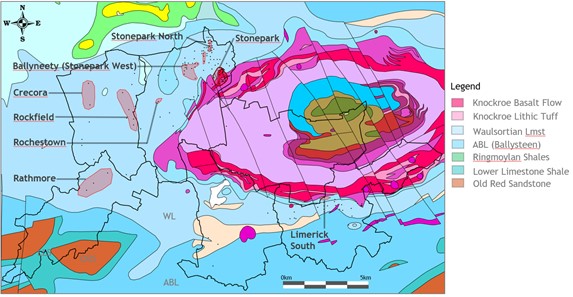 Note: * m% = ZnEq% multiplied by thickness. ZnEq% is calculated using Zn & Pb values of $1.00/lb and $15.00/oz Ag. All drillholes are vertical and as the mineralized body is more or less flat, interval width is taken as true thickness. Historic drill results have not been verified by a qualified person as the samples forming the basis of such results are not available to the Company and accordingly no quality assurance programs or quality control measures were applied by the Company.
Scientific and technical information in set out in this website has been approved by David Furlong, who is a Qualified Person for the purposes of National Instrument 43-101 and who is the Chief Operating Officer of the Company