The PG West Project is 100% owned by the Company and consists of 34 PLs (totaling 1,055 square kilometres) contiguous with the Company's 76.56% owned Stonepark Project.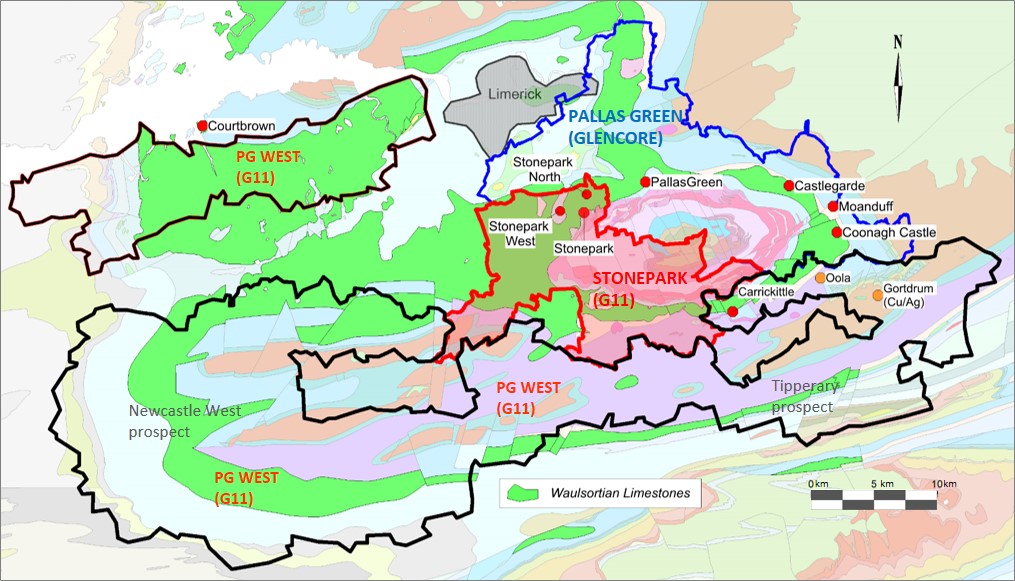 Unlike other Irish-type deposits, the Zn-Pb deposits and occurrences of the Limerick Basin have a close spatial and temporal association with mafic intrusions. Key prospects under investigation by the Company include the Oola-Carrickittle corridor, the Tipperary prospect and the NewCastle West prospect. The Limerick Basin has emerged in recent years as an important district in the Irish Orefield, with the discoveries of Glencore's Pallasgreen deposit (44mt @ 8% Zn+Pb) and the recently acquired Stonepark project.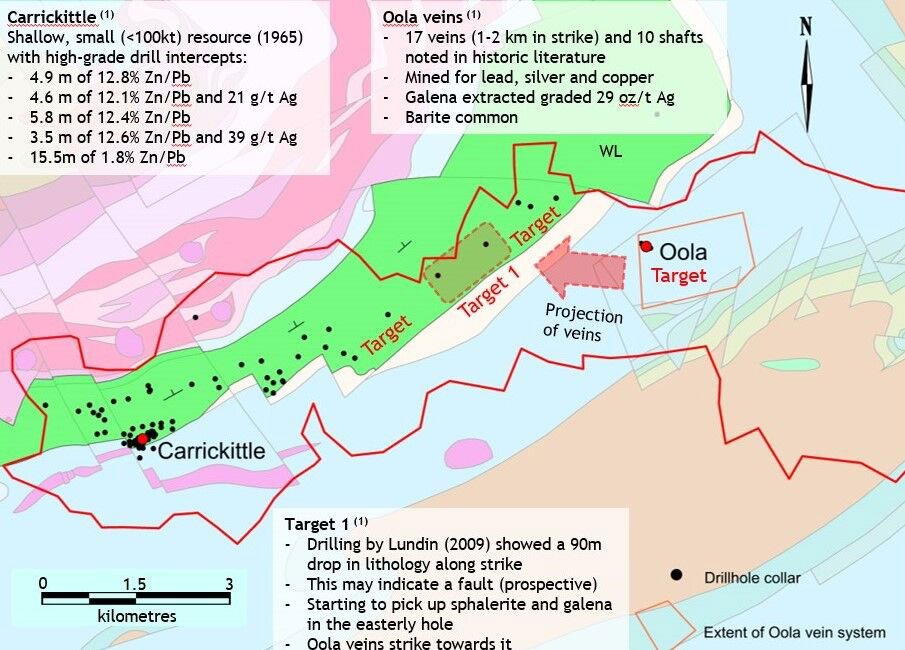 Carrickittle, a small zinc discovery from 1965, is located approximately 10 kilometres west-southwest along trend from the village of Oola, which hosts a series of veins mined for silver (and copper) as far back as the 13th Century (see Exhibit 40). The Oola veins were mined in the past, being one of the most cited lead mines in Irish medieval mining records. The Company aims to selectively drill to determine the width and grade and confirm strike of these veins and test whether they project eastwards approximately two kilometres towards the base of the Waulsortian limestone. A hole drilled by Lundin in 2009 within the Waulsortian along the projection of the Oola veins, intersected blebs of sphalerite and galena.
The Tipperary prospect consists of two drill holes which intersected anomalous zinc which stands out in a district where many barren holes were drilled. Hole 00-468-5 and FM-2654-1 intersected strong indicators for zinc mineralization, consisting of dolomitization, black-matrix breccia, white matrix breccia with specs of sphalerite, galena and pyrite – all occurring near the base of the Waulsortian limestone over widths of 55m to 80m. The last hole (FM-2654-1) was drilled in late 2008, and despite the encouraging technical results, the operator could not fund further exploration due to weak zinc prices and in the immediate aftermath of the global financial crisis. Regional geophysics suggests a significant fault structure located approximately 300m south-southeast of the last hole. The Company plans to verify the presence of the Kilross fault with one or two shallow drill holes and, assuming the fault is intersected, test the deeper target at the base of the Waulsortian.
The NewCastle West prospect consists of a regional zinc, lead and copper soil anomaly underlain by Waulsortian limestone. Historic drilling by Teck and others identified areas with significant dolomitization (BMB/WMB), as well as, zones with pyrite and chalcopyrite. The Company will further refine the target with seismic and basin evolution analysis, with a view to identifying permissive structures for drilling if the data is sufficiently compelling.