The Tralee Project is 100% owned by the Company and consists of 15 PLs (totaling 512 square kilometres), situated in southwestern Ireland. The area has been largely overlooked in terms of exploration since the early 1980s relative to other parts of the 'Irish Orefield', except for the Castlemaine prospect which has seen limited, sporadic work over the last 20 years. One of the key aims for Group Eleven is to determine if the Castlemaine prospect has potential to host significant zinc mineralization. Early evidence suggests similarities to the Kilbricken zinc deposit in County Clare (owned by Hannan Metals Limited).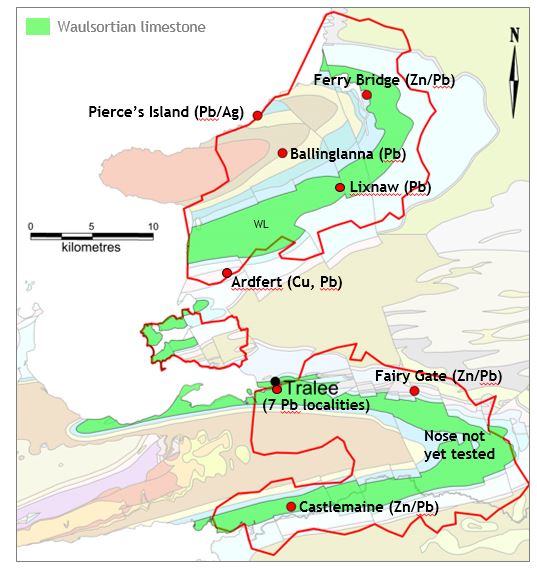 Drilling by the Company in late 2016 and early 2017 under the old workings intersected 130m of clean, course grained calcite which is believed to potentially represent a fugitive calcite cap associated with a hydrothermal system. Calcite bodies on this scale are rare in Ireland, however, they are well documented in County Clare. To the Company's knowledge, there are only four such occurrences in Clare (Kilbricken, Milltown, Ballyhickey and Spancil Hill) and all, but one, are associated with zinc/lead mineralization, most notably the Kilbricken Zn-Pb-Cu-Ag deposit (operated by Hannan Metals Limited). Overall, there are indeed several similarities between Castlemaine and the Kilbricken deposit, as summarized below:
Calcite-cap (130m intercept) – as noted above.
Veins containing zinc mineralization, near top of Waulsortian – 51% Zn + 19 g/t Ag in grab from old spoils at Castlemaine (similar to Kilbricken).
South-dipping faults – most Irish zinc deposits associated with north-dipping faults (except for Kilbricken).
Potentially buried intrusives – two mag-high anomalies at Castlemaine suggest possible intrusive activity (similar to that suspected at Kilbricken).
WMB and grey breccias – G11 hole contains possible WMB (hydrothermal) and grey dissolution breccias.
Sulphides – local pyrite blebs are observed at the base and below the Castlemaine calcite body.
The next step in exploration at Castlemaine will consist of drilling below the calcite body, in order to test for intensification of the hydrothermal system and zinc mineralization toward the base of the Waultsortian limestone.